Now I can't say that I have the time to sit down and watch many movies at the moment. But, whenever I get a moment free I love to put inspirational movies on.
There's a lot of them out there, but you can never have too many!
An inspirational story is always a great way of motivating people. It gives you an opportunity to see people who have perhaps been in your situation, and worked their way to the top.
16 Inspirational Movies.
You'll probably find that most of the inspirational movies listed below are based on true stories; which is why they have become so inspirational and so powerful, don't you think?
Here's the list of 15 inspirational movies that will motivate you:
1. PURSUIT OF HAPPINESS.
The Pursuit of Happiness has to go down as one of the most inspirational movies ever made. It follows the true story of
Chris Gardner
, a single father struggling to make a better life for him and his child Christopher.Chris battles periods of homelessness as he's trying to complete an internship at a stockbroker firm, whilst having to make a living selling medical scanners that are low in demand.
I recently wrote an article to do with this film titled
''5 Things Entrepreneurs Can Learn From The Pursuit Of Happiness''
, which is definitely worth a read for any fellow entrepreneurs looking for inspiration.
Overall, you can't top The Pursuit of Happiness in terms of inspiration and if you still haven't seen it you need to!
2.
NEVER BACK DOWN.
Never Back Down is one of the best inspirational movies that I will just continuously watch anytime I find myself bored, or looking for motivation. It never gets tiring.The film is all about a teenager, Jake Tyler, who feels responsible for his father's death from drink driving. His brother Charlie gets a tennis scholarship in Orlando, which they then move to.
Struggling to deal with his anger and emotions, Tyler gets baited into an MMA fight with one of the guys from his new school, where he ends up getting his ass kicked.
From then on,
the film is packed with motivation
as Tyler joins a gym, learning from one of the best mixed martial arts fighters in order to deal with his emotions and better himself both mentally and physically.
3. ROCKY.
We all love the Rocky films right? To be honest, every film in the series is inspirational. Rocky Bolboa is played by Sylvester Stallone, and Rocky is a debt collector and club boxer. He is often mocked for what he does, and is never taken seriously.He goes on to try and prove himself as a professional boxer and show everyone that he has what it takes. Pure inspiration from this series and it's a must watch!
4. ALI.
Like many of the films on this list, Ali was modeled after a true story, that of Muhammad Ali's. Will Smith plays Ali in the biography of his life, both in and out of the ring, and shows how he became a true champion.
"I am the greatest. I said that even before I knew I was. I figured that if I said it enough, I would convince the world that I really was the greatest." – Muhammad Ali
5. GET RICH OR DIE TRYIN'.
Get Rich or Die Tryin' may not be the most peaceful and heartwarming way of showing inspiration, but it's not to be forgotten.
The film shows the inspirational life of 50 Cent, the famous rapper and entrepreneur. 50's mom was murdered when he was just a child, and he never knew his father.
He turned to drug dealing when he was young to pay for his sneakers, but always had a dream of becoming a famous rapper. Which eventually led to him being
shot 9 times
by some people that didn't like what he was doing.
The fact that he recovered after getting shot 9 times, and then went on to become the rapper he is today, is incredibly inspirational.
6. 8 MILE.
Similar to Get Rich or Die Tryin', 8 Mile is a film that follows another aspiring rapper Rabbit (Eminem). Rabbit lives in a trailer with his mom and works at a dead end job in Detroit.In his spare time he started performing at rap battles where he was the only white performer, writing music and saving up to have enough money for studio time.
It's another of the
best inspirational movies
that shows someone starting at the bottom, working incredibly hard to make it to the top and against all the odds.
7.
MILLION DOLLAR BABY.
Million Dollar Baby is an amazing film, about a female boxer this time, featuring Clint Eastwood. Maggie often goes to the gym to train, but she's always been fairly amateur and wants to box professionally.
When she asks the gym owner if he'll train her, she's always answered by
"I don't train girls"
.
Until eventually, the owner gives in and decides that he'll train her. Maggie makes her way to the top very quickly. However, her family become too obsessed with the money and forget about their care for Maggie.
8. FORREST GUMP.
We all love Forrest Gump right? The film about a simple man, of not much intelligence; but he has always had good intentions and been present accidentally at many historic moments. Generally, Forrest has experienced quite a lot in his life time.
He's won medals for his service in Vietnam, becomes a ping pong pro, starts a shrimping business. The list goes on.
"Life is like a box of chocolates…you never know what you're gonna get." – Forrest Gump.
9. ANY GIVEN SUNDAY.
Any Given Sunday stars the great
Al Pacino
, and is all about a professional American football team, that has one of their star players hit with an injury. A young player is drawn in to replace if, after having sat on the bench for years due to being 'unlucky'.
A behind-the-scenes look at the life-and-death struggles of modern-day gladiators and those who lead them.
10. THE FIGHTER.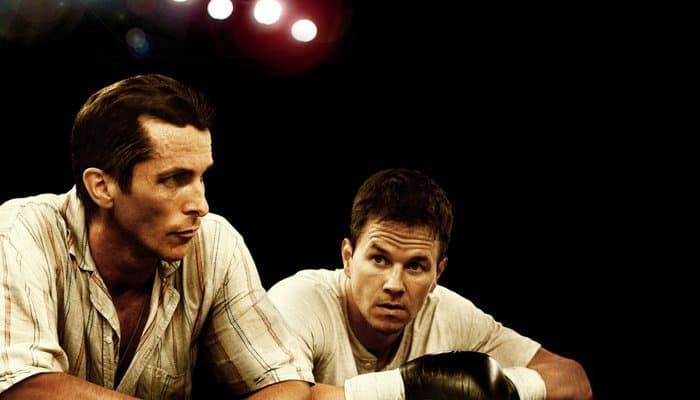 The fighter is a film following a boxer named
Micky Ward
, who has been wanting a shot at the welter-weight title for quite some time. A lot of his inspiration comes from his half-brother Dicky, who is an ex-boxer, but Dicky let himself deteriorate from a bad drug problem.Dicky becomes clean and with his help and the family's, Micky eventually gets his welter-weight title shot. It's funny how many of these inspirational films are to do with boxers.
11. COACH CARTER.
Coach Carter is another film based on a true story, where Ken Carter takes on the job as basketball coach at his old high school. Many of the players had poor attitudes both on the court and in class, so Carter decided to implement strict rules in order to try and improve the players attitudes towards life.
If you've checked out
motivational videos on YouTube
, you'll often find that speeches from this film are in it.
12. INVINCIBLE.
Invincible stars Mark Wahlberg, as Vince Papale, a
30 year old bartender
who has recently lost his job as a part time teacher.
When his wife then leaves him, leaving a note behind that states he will never amount to anything, Vince decides to go to the open tryouts being hosted by the Eagles.
He is invited to go to training camp, and then eventually makes the team, despite the odds of him being too old to make it compared to most NFL players who are naturally younger and started training many many years before they were drafted in professional football.
13. CASTAWAY.
Castaway is an incredibly inspirational film about a Fed-ex Employee, Chuck Noland, who was on a private plane when it crashed into the pacific ocean. When he washed up on an unknown island, he was stranded and alone with nobody to help.
Chuck
never gives up
, and besides almost completely losing his sanity, he manages to eventually build a raft that will get him home. An excellent inspirational film featuring Tom Hanks.
14. THE BUCKET LIST.
The Bucket List is a film where two men, completely different from one another discover
they have terminal cancer
.
One of them is a corporate billionaire, and the other a mechanic, but they both decide to escape from their cancer ward and set off to do all things they want to before they die.
It's a must watch film for anyone who thinks it may be too late to chase their dreams or just go out and do everything they want to but never though they would.
15. YES MAN!
'Yes Man!' is all about a guy called Carl Allen, who has such a negative outlook on life. He takes the advice of a colleague to attend a motivational seminar to try and
overcome his negativity
. After going to the seminar, it really spoke to him.He vowed to always say yes and seize every opportunity that came his way.
It's a brilliant film for anyone that has a
negative outlook on life
, just like Carl, or is currently suffering from negative thoughts. Overcome your negativity!
16. GIFTED HANDS - The Ben Carson Story.
When it comes to true life inspirational stories that is capable of motivating people, the story of Benjamin Carson in "Gifted Hands" has to be in the list. This movie changed my orientation of the common thoughts and saying by most people that "some people are born dull, lazy and cannot be great in life, especially when it comes to doing what they love to do". The story portrayed an amazing and exceptional transition, of a young boy who was tagged, from being the "dullest kid" to the world most successful, most renowned and best male surgeon. His story will inspire you.
Summary
Here's a quick recap of the 15 best inspirational movies to watch:
Pursuit of Happiness
Never Back Down
Rocky
Ali
Get Rich or Die Tryin'
8 Mile
Million Dollar Baby
Forest Gump
Any Given Sunday
The Fighter
Coach Carter
Invincible
Castaway
The Bucket List
Yes Man!
Gifted Hands.
Personally, these inspirational movies are my favorite to watch whenever I'm looking for a little inspiration every now and then!
I Must Talk Initiative | Wealthy Gorilla